African Union: Sokoto State governor bags 2 awards at a time
Sokoto State governor Aminu Waziri Tambuwal has bagged double awards from the African Union Economic and Social Council (ECOSOC) of the African Union on Thursday the 18th day of March 2021.
The award was given to the governor of Sokoto state in recognition of his strong and enduring leadership qualities and his campaigns to solidifying the rights of the girl child and women, especially through education. The awards conferred on him were; 'AU African Role Model and Envoy of Good Governance' and secondly; 'Ambassador for the New Decade 2020-2030 African Women Financial Inclusion in Nigeria' with this intended project for women to be flagged off on the 30th day of March 2021.
The Nigerian Representative and Chairperson African Union ECOSOC, Dr Tunji Asaolu, together with the Special Adviser Political Affairs AU ECOSOC, as well as the Head of Women and Gender Affairs Cluster Committee, AU ECOSOC were present on the night to present the awards to the Sokoto State governor in Abuja.
READ ALSO: Dave Umahi shorthanded, as another 3 defects to PDP
Dr Tunji while recognising that the Sokoto State governor serves as a role model to all others, he also emphasised that this would hopefully reawaken the spirit of Pan Africanism which has dwindled over the years. So considering the giant strides of the governor, he has been chosen by AU to pilot its programs for African Women Financial Inclusion in Nigeria for the whole Decade.
Governor Aminu thanked the AU and the representative there present for its recognition, encouragement and sustainable interest in growing human resources as a means of fostering good governance across all of Africa. He further encouraged the team of AU representatives to make out time to visit the state, so as to see things for themselves and take proper now of the roadmaps created by his government girl child right and education as well as that of every child in the state.
He promised to continue in his good work, as the award serves as a motivating factor which has only fueled his hunger to do much more in his power to promote good governance for the people of the state.
El-Rufai vows not to pay ransom if Son kidnapped, Prays he makes heaven instead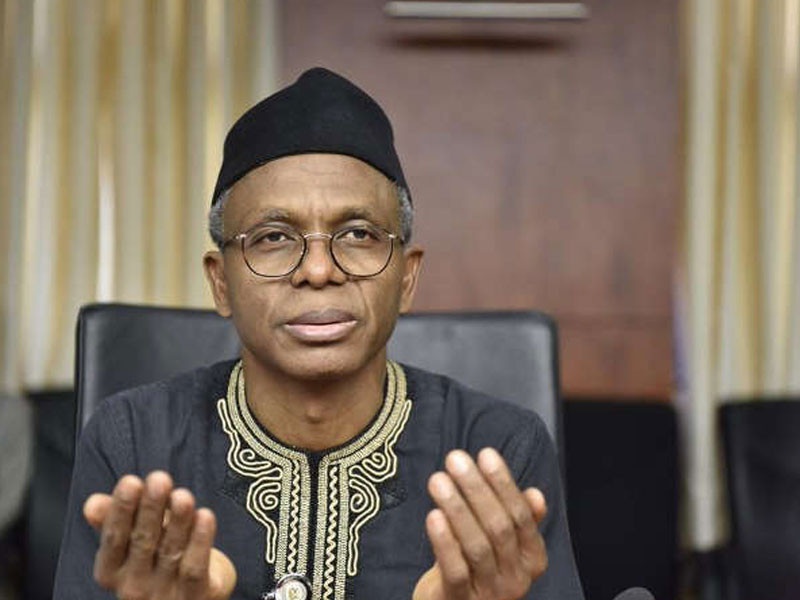 Governor Nasir El-Rufai vows not to pay ransom if Son kidnapped, or for the release of any kidnapped victim in the state. This comes after a statement from previous interviews where he said categorically that said kidnappers do not deserve to live and should all be wiped out.
El-Rufai said that even though his son is kidnapped, he would not pay a ransom. I'd rather pray for him to go to heaven than pay any ransom, the governor said during a radio interview in Kaduna.
He reiterated that he has cautioned his family members to be cautious to avoid being kidnapped, emphasizing that he had already made it clear to them that he will never pay a ransom for their release if any of them are kidnapped.
READ ALSO: IPOB expresses concern over killing of Biafrans in Akwa Ibom and Benue
"I mean it, and I will say it again, here. Even if my son is kidnapped, I will rather pray for him to make heaven instead, because I won't pay any ransom."
The governor has been under pressures to find and free the abducted students of the Federal College of Forestry and Mechanisation in Kaduna and went on to reiterate that the government is looking at other ways to secure their release.  He did, however, rule out paying the ransom as part of those ways being considered.
Abia State Gov. shuts down school over explosives found in premises
Abia State Gov. shuts down school over explosives found in premises of a primary school within its state capital. The Abia State Government announced that an investigation has started to "unravel the origins and nature" of the alleged explosive devices discovered at Union Primary School in Afaraukwu, Umuahia.
Okiyi Kalu, the Commissioner for Information, announced this in a statement released in Umuahia on Thursday.
Mr Kalu said that the state government has begun collaborating with appropriate security agencies in the state regarding the progress.
READ ALSO: Miyetti Allah to FG, 400 grazing reserves adequate to accommodate herders in Northern Nigeria
According to the statement, "an initial inspection of the instruments reveals signs of corrosion, raising the possibility that the artefacts are civil war remnants."
"We are awaiting a definitive formal report from the Nigeria Police Explosives Ordnance Disposal unit, which is reportedly investigating the incident."
While he made it clear that the school had been briefly closed by the authorities, he also claimed that the requisite precautions have been taken to secure the school's students and employees, "with security sweeps underway."
Even as Mr Okiyi Kalu expressed the government's gratitude to God for no loss of life or property, he went ahead to say that Governor Okezie Ikpeazu had ordered security agents to conduct a serious investigation and come up with preventive checks as well as measures in other vulnerable areas of the state.
Breaking: Nigerian Activist Yinka Odumakin is dead
According to reports reaching Izzygong; Spokesman Afenifere, Human Rights Activist, Nationalist and a true democrat Yinka Odumakin is dead.
While the circumstances of his death are still unknown, a source told Daily Trust that he died as a result of COVID-19 complications.
After the annulment of the June 12, 1993 election, Odumakin was a core member of the National Democratic Coalition (NADECO), which fought General Sani Abacha's rule.
READ ALSO: Tussle intensifies as questions raised on next APC National Chairman
He was also a spokeswoman for the Southern and Middle Belt Leaders' Forum (SMBLF), an organization that represents ethnic groups from the South-West, South-South, South-East, and Middle Belt.
Odumakin, who is married to another activist, Dr Joe Odumakin, has been a vocal critic of the current administration.
He has repeatedly chastised the Muhammadu Buhari-led Federal Government for perceived bias and favouritism in the recruitment of officials to different positions.
He was also outspoken in his criticism of killers' actions in Yorubaland.
He recently cautioned the Federal Government not to arrest Sunday Igboho, who recently gave a quit notice to Fulani herders in Ibarapa, Oyo State, and expelled the Sarkin Fulani in Igangan.