Insecurity: Defend yourselves against Attacks says, Minister of Defence
Minister of Defence has urged and asked Nigerians to defend themselves from attacks of bandits citing himself as an example.
The Nigerian Minister for Defence, Maj. Gen. Bashir Magashi, in an interview with newsmen, reiterated that most times, Bandits only come to attacks with about three rounds of ammunition and when they fire shots, everyone runs away.
In his exact words to Nigerians, he said:
"In our younger days, we stand to fight any aggression coming to us. I don't know why people are running away from Bandits…

They should stand, let these people know that even the villagers, they have the competence and capability to defend their selves. but our own duty is to ensure no Nigerian is hurt."

#Minister of Defence
Read Also: Police: Special forces deployed to fight bandits in Kaduna
Should Nigerians stand and fight against bandits with empty hands or should they continue to run in events of attacks? Do not forget to share your thoughts with us…
IPOB expresses concern over killing of Biafrans in Akwa Ibom and Benue
The Indigenous People of Biafra (IPOB) alleged on Friday the secret killing of its supporters and innocent people in Akwa Ibom State's Essien Udim Local Government Area and some part of Benue State.
The group's spokesman, Emma Powerful, alleged that the military has been terrorizing IPOB supporters in Akwa Ibom and lower Benue.
READ ALSO: Miyetti Allah to FG, 400 grazing reserves adequate to accommodate herders in Northern Nigeria
"How would a responsible military use helicopter gunboat and military aircraft against regular citizens?" he wondered. Boko Haram, Miyetti Allah, and other terrorist organizations have been targeting soldiers and police in the North East and North West without soldiers using lethal force on nearby civilian villages or using military planes to terrorize ordinary citizens."
He promised that the relentless attacks would not deter IPOB's determination to seek independence.
In a report by The Nation, he was quoted thus; "We are not going back, not one inch until Biafra is fully restored. All those behind these genocidal attacks against innocent Biafrans know that vengeance is coming. They will all pay individually and collectively for their atrocities against civilians sooner rather than later,".
Abia State Gov. shuts down school over explosives found in premises
Abia State Gov. shuts down school over explosives found in premises of a primary school within its state capital. The Abia State Government announced that an investigation has started to "unravel the origins and nature" of the alleged explosive devices discovered at Union Primary School in Afaraukwu, Umuahia.
Okiyi Kalu, the Commissioner for Information, announced this in a statement released in Umuahia on Thursday.
Mr Kalu said that the state government has begun collaborating with appropriate security agencies in the state regarding the progress.
READ ALSO: Miyetti Allah to FG, 400 grazing reserves adequate to accommodate herders in Northern Nigeria
According to the statement, "an initial inspection of the instruments reveals signs of corrosion, raising the possibility that the artefacts are civil war remnants."
"We are awaiting a definitive formal report from the Nigeria Police Explosives Ordnance Disposal unit, which is reportedly investigating the incident."
While he made it clear that the school had been briefly closed by the authorities, he also claimed that the requisite precautions have been taken to secure the school's students and employees, "with security sweeps underway."
Even as Mr Okiyi Kalu expressed the government's gratitude to God for no loss of life or property, he went ahead to say that Governor Okezie Ikpeazu had ordered security agents to conduct a serious investigation and come up with preventive checks as well as measures in other vulnerable areas of the state.
Miyetti Allah to FG, 400 grazing reserves adequate to accommodate herders in Northern Nigeria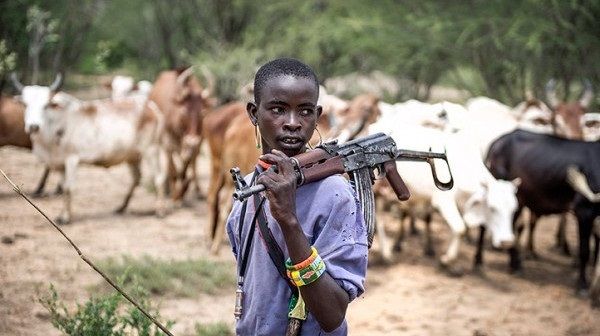 The Miyetti Allah Cattle Breeders Association of Nigeria (MACBAN), speaking against the backdrop of the herders' crisis in Nigeria, has stated that the 400 grazing reserves in the country's northern region are adequate to satisfy all herders.
While briefing the leadership of the Arewa Consultative Forum (ACF) at their headquarters in Kaduna State on Thursday, Baba Usman Ngelzerma, National Secretary of the association, asked the forum to place pressure on the federal and state governments to use the country's abandoned grazing reserves, especially in the North.
According to him, there are 400 grazing reserves in the north and more in the south, specifically in Oyo, Ogun, and Lagos State. He went on to say that the time has come for the herders to avoid travelling from one location to the next.
Although calling for these concerns to be resolved, he made it clear that the subject of herders is a national one that must be addressed holistically."
READ ALSO: EFCC and Military Police work together to fight corruption
"The government should ensure that herders are settled in grazing reserves in order to prevent the current condition in which they are dispersed across the region. This is the root of the current crisis.
"In the grazing reserves, these herders should be supplied with the requisite educational, health, and other facilities. When their standing increases, so will their economic potential and the country's productivity. The operation of the grazing reserves should be completed as soon as possible."
According to the secretary-general's figures,  Lagos State alone consumes 6,000 cows a day, with 250 lorries of cows entering the southern part of the country on a regular basis. According to MACBAN, the 400 grazing reserves in the northern states should be better used and established. He continues that once the grazing lands are utilised, half of the problems will be solved.
He also said that the pastoralists' lack of education is being abused, warning that unless herders and pastoralists are brought together in grazing reserves, the nation's long-desired stability could be elusive.
He bemoaned the loss of over four million cows by Fulani pastoralists since the country's crisis began.
Following receipt of the paper, ACF chairman, Chief Audu Ogbe, stated that members of the forum would review the presentation before making a decision. In a communique issued at the conclusion of the meeting on Thursday, ACF stated that mediation and consultation with other parts of the world remain the only way to restore peace in the country.
The forum denounced the actions of terrorists, kidnappers, and robbers in the North in a communiqué published and read by the forum's national publicity secretary, Emmanuel Yawe, saying that their acts are killing the stability and development for which the North was known while the region's founders were in control. The forum has condemned the words of some actors and leaders who have tried to incite political, cultural, and religious passions in the midst of the country's current crisis.
To that end, it urged Nigerian politicians to show caution in their public statements in light of the current situation. It also expressed regret that abducted students from the Federal College of Forestry Mechanisation are still being held captive, and that the Kaduna State government has done nothing to secure their release.
"We, the ACF, condemn all lawless acts of self-help and urge all northern youths to put an end to such evil plans. They do not have our backing. The ACF believes in dialogue and consultation as a means of restoring stability and normalcy to our troubled region and nation," according to the communique.