TIPS ON HOW TO HAVE A GOOD SINGING VOICE
Singing is actually what everybody can literally do but not everyone has a good singing voice (i.e singing with a good voice). Imagine the obvious difference you will get when Celine Dion and Hillary Clinton sings the same song with their individual voice or the difference when R. Kelly and Donald Trump sings the same song. you can agree with me that the difference in their voice will be very very obvious, not considering their age or gender. The difference is in the quality of their individual singing voice.
Developing a good singing voice is a very very important task to do if you want to sing well or be a professional Singer and it involves activities and practice. Some of the tips on how to develop a good singing voice are explained below.
(1). Constant intake of water (not Iced):
Drinking plenty of warm water or warm tea (without sugar) is very good for the vocal cords. this is because it helps you to stay hydrated and it also clear out excess mucus from your throat. However when it comes to cold water, the reverse is the case since drinking excessive cold water will tighten and shock your throat too. While drinks like milk, soft drinks and other carbonated drinks are very bad for your voice as the lactose in milk and the sugar in soft or carbonated drinks causes phlegm and mucus to the build up in the throat.
(2). Maintain a healthy lifestyle:
Every good Singer have to maintain a good and healthy lifestyle like having good body exercise and good sleep every day (at least 6 to 8 hours daily). This helps the body to stay healthy  and able to generate the required energy to produce good music.
(3). Practice posturing:
Singing involves positioning all your body parts and getting them ready to do the Job. If you slump over, you will have trouble taking the breath you need to sing well, because posture and tension directly affect the muscles.
To practice a good body posturing, you have to stand in front of a full length mirror and notice the way you align your body parts expecially your head, chest, arms, hips, knees, hands and legs. Proper posturing means that you have to sit upright or stand erect with your Both legs about shoulder wigth apart (your feets and your shoulder should be straight aligned), your head should be upright and your chest relaxed.
(4). Breath from your diaphragm:
Breath control is very essential in voice production. Instead of gasping for air with your chest, it is more appropriate to breath from your diaphragm. This requires you to fill the air in your stomach and breathe in from their while your stomach pump's in and out. Your belly should be expanding as you breath from your diaphragm not your ribs.
(5). Eat food that are good for the voice:
A good Singer or an aspiring Singer should avoid excess fatty and fried foods. Your diet should include protein rich foods, vegetables and vitamins. Fish and chicken should be your best meat option while egg, Apple, Rice and moderate portion of yellow vegetables in an healthy choice.
The food to avoid includes alcohol, fried foods, coffee, salty food, heavily spicy (pepper) food and sodas. This foods should be limited or if possible totally avoided.
(6). Relax your vocal chords:
Relaxing your vocal chords before you start singing is very important because it helps relieves your voice from strain. Strained vocal chords can not hit the high notes comfortably well. To relax your vocal chord, try saying mum......mum......mum in different key and tone instead of the usual do re mi fah soh lah ti doh to warm up your voice, do this for at least 5 minutes before you start singing.
(7). Practice phrasing:
In an ordinary writing, phrase are marked by commas, or other punctuation. But in music, punctuations are always absent from the lyrics. Practicing phrasing is very important in voice production as the best time to breath is between phrases. To do this, you have to look over the lyrics of the song to figure out where the natural pauses or breaks are before you start singing so that you can take your breath at this breaks. This will help you to avoid straining, gasping for breath or running out of air.
(8). Record yourself:
Recording yourself while singing is very important as it let's you listen to yourself to know if you sound good or irritating. Record and listen to yourself with an open mind, then observe were and how you need to improve.
(9). Sing to a large audience:
Overcoming stage fright is very essential in singing well. Imagine going up that stage to sing but can't just because of stage fright. Stage fright is capable of making you forget your lyrics, loss your confidence and stamina. With constant singing in the presence of crowed, you can get used to it and the stage fright will gradually disapire. If singing if front of people makes you nervous, try looking at their forehead or over their shoulders.
(10). Listen to criticism:
Try performing in the presence of good singers, musicologist, family and friends, ask for there opinions and be ready and free to learn from there critics and not getting offended by it.
(11). Be persistent and practice:
Talent helps in music, but persistence is more important. Keep on developing your voice production, vocal technique, voice strength, stage performance, and music skills. Just as the saying goes practice makes perfect, keep on practicing and the sky will definitely be your starting point.
By: MBAZU EMMANUEL IKE
El-Rufai vows not to pay ransom if Son kidnapped, Prays he makes heaven instead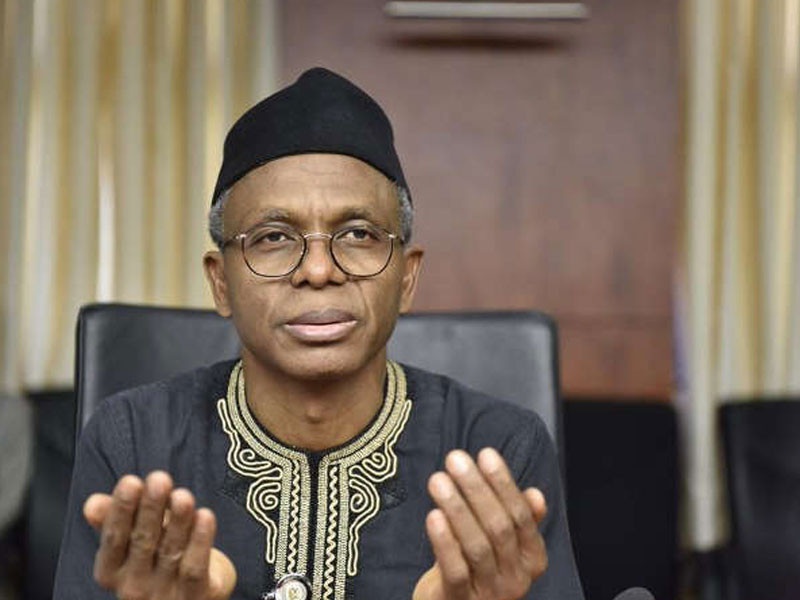 Governor Nasir El-Rufai vows not to pay ransom if Son kidnapped, or for the release of any kidnapped victim in the state. This comes after a statement from previous interviews where he said categorically that said kidnappers do not deserve to live and should all be wiped out.
El-Rufai said that even though his son is kidnapped, he would not pay a ransom. I'd rather pray for him to go to heaven than pay any ransom, the governor said during a radio interview in Kaduna.
He reiterated that he has cautioned his family members to be cautious to avoid being kidnapped, emphasizing that he had already made it clear to them that he will never pay a ransom for their release if any of them are kidnapped.
READ ALSO: IPOB expresses concern over killing of Biafrans in Akwa Ibom and Benue
"I mean it, and I will say it again, here. Even if my son is kidnapped, I will rather pray for him to make heaven instead, because I won't pay any ransom."
The governor has been under pressures to find and free the abducted students of the Federal College of Forestry and Mechanisation in Kaduna and went on to reiterate that the government is looking at other ways to secure their release.  He did, however, rule out paying the ransom as part of those ways being considered.
Abia State Gov. shuts down school over explosives found in premises
Abia State Gov. shuts down school over explosives found in premises of a primary school within its state capital. The Abia State Government announced that an investigation has started to "unravel the origins and nature" of the alleged explosive devices discovered at Union Primary School in Afaraukwu, Umuahia.
Okiyi Kalu, the Commissioner for Information, announced this in a statement released in Umuahia on Thursday.
Mr Kalu said that the state government has begun collaborating with appropriate security agencies in the state regarding the progress.
READ ALSO: Miyetti Allah to FG, 400 grazing reserves adequate to accommodate herders in Northern Nigeria
According to the statement, "an initial inspection of the instruments reveals signs of corrosion, raising the possibility that the artefacts are civil war remnants."
"We are awaiting a definitive formal report from the Nigeria Police Explosives Ordnance Disposal unit, which is reportedly investigating the incident."
While he made it clear that the school had been briefly closed by the authorities, he also claimed that the requisite precautions have been taken to secure the school's students and employees, "with security sweeps underway."
Even as Mr Okiyi Kalu expressed the government's gratitude to God for no loss of life or property, he went ahead to say that Governor Okezie Ikpeazu had ordered security agents to conduct a serious investigation and come up with preventive checks as well as measures in other vulnerable areas of the state.
Breaking: Nigerian Activist Yinka Odumakin is dead
According to reports reaching Izzygong; Spokesman Afenifere, Human Rights Activist, Nationalist and a true democrat Yinka Odumakin is dead.
While the circumstances of his death are still unknown, a source told Daily Trust that he died as a result of COVID-19 complications.
After the annulment of the June 12, 1993 election, Odumakin was a core member of the National Democratic Coalition (NADECO), which fought General Sani Abacha's rule.
READ ALSO: Tussle intensifies as questions raised on next APC National Chairman
He was also a spokeswoman for the Southern and Middle Belt Leaders' Forum (SMBLF), an organization that represents ethnic groups from the South-West, South-South, South-East, and Middle Belt.
Odumakin, who is married to another activist, Dr Joe Odumakin, has been a vocal critic of the current administration.
He has repeatedly chastised the Muhammadu Buhari-led Federal Government for perceived bias and favouritism in the recruitment of officials to different positions.
He was also outspoken in his criticism of killers' actions in Yorubaland.
He recently cautioned the Federal Government not to arrest Sunday Igboho, who recently gave a quit notice to Fulani herders in Ibarapa, Oyo State, and expelled the Sarkin Fulani in Igangan.